Ryan A. Stanton M.D., Board Certified Plastic Surgeon in Beverly Hills, CA
While many plastic surgeons offer buttocks augmentation services, Dr. Stanton researched developed and obtained a patent for his Stanton Anatomic®️Buttock Implant. Inspired by lackluster results achieved in the Brazilian butt lift and other butt enhancement procedures, Dr. Stanton invested years of research and development before presenting the Stanton Anatomic®️ Buttock Implant to the United States Patent and Trademark Office (USPTO) and Federal Drug Administration (FDA.) After a comprehensive approval process, Dr. Stanton began offering his implant to interested patients. Rave reviews about its natural-looking, robust results vindicated the long road and hard work invested in getting this product to eager patients.
But the butt isn't the only canvas available for sculpting youthful enhancements. At his full-service plastic surgery practice in Los Angeles, CA, Dr. Ryan Stanton also offers cosmetic surgery for the breast, body, face and non-surgical aesthetic treatments in his medical spa.
Learn more about Dr. Stanton and the procedures we offer at a one-on-one consultation. While Dr. Stanton is impressive on paper, he truly shines when interacting directly with his patients. 
Schedule your plastic surgery consultation with Dr. Stanton by contacting our office at (310) 278-0077. We look forward to your visit!
Meet Dr. Stanton- Education and Qualifications
Dr. Stanton is a board-certified plastic and reconstructive surgeon whom is fellowship trained and has 18 years' experience in cosmetic procedures for the breast, body, and face. He is one of the most sought-after surgeons specializing in the very unique expertise of hip and buttocks enhancement with implants.
Growing up, Dr. Stanton did not plan on becoming a surgeon. He had early aspirations to play professional sports, become a bodybuilder, or headline stadiums as a rock musician. While these careers are glitzy and glamourous, as he approached college, he realized that he wanted an intellectually challenging route. He decided to pursue a professional career where he could grow and help others.
Dr. Stanton started his medical journey in pharmacy school, but quickly realized that he craved patient interaction. He wanted to work with patients from start to finish, helping them identify problems and create solutions. He did not want to send his patients to someone else for surgery and wanted the skills and experience to perform surgical procedures himself. He found his ideal branch of medicine in plastic surgery and aesthetics. Dr. Stanton attended medical school at the University of Wisconsin Medical School, a top Big-10 medical school.
Dr. Stanton trained in both general surgery and plastic surgery during his residency at University Hospital, Children's Hospital, and Shriner's Burn Institute of Cincinnati. He excelled throughout his medical training and had the privilege to serve as Chief Resident in the Division of Plastic and Reconstructive Surgery during his final year of residency training. After his residency, Dr. Stanton completed additional specialized training with a prestigious fellowship in Aesthetic Plastic Surgery in Miami, FL.
Dr. Stanton has been in private practice in the Beverly Hills area since 2001, receiving many accolades and awards for his exceptional service, attentive patient care, and gorgeous surgical results. 
Specializing in Aesthetic Surgery for the Breast and Body
Dr. Stanton is experienced performing aesthetic and reconstructive surgeries from head to toe, although he is best known for his work in buttock and hip enhancement. His top requested and performed procedures include:
As one of the top providers of buttock and hip enhancement procedures in Los Angeles, Dr. Stanton is highly sought after for revision surgery for the buttocks and hips. Brazilian butt lift (BBL) procedures often fall short of patient desires and expectations. Dr. Stanton is an expert at correcting these deficiencies and achieving a better long-lasting result using custom-designed cosmetic implants. If you've worked with other surgeons to achieve a fuller, rounded, perky buttocks projection without the desired results, come see Dr. Stanton, one of the top buttocks surgeons in the country.
Personalized Service from a Doctor You'll Look Forward to Visiting
Doctor visits don't typically rank high on a list of favorite activities, unless of course, you're considering a visit to a plastic surgeon. You see, a typical doctor's appointment usually means that something is wrong. With plastic surgery, the opposite is true. Our patients are generally in good health and looking to make a great life even better by boosting confidence and improving their body's appearance. Dr. Stanton looks forward to becoming your favorite doctor to visit.
Our patients love Dr. Stanton. His hip and butt augmentation results have earned him the nickname "The Butt King®" and countless referrals and recommendations to our Beverly Hills practice. His impressive results as one of the top buttocks surgeons are one reason for his popularity, but as you visit with us, you will quickly learn that Dr. Stanton offers so much more than dazzling aesthetic results.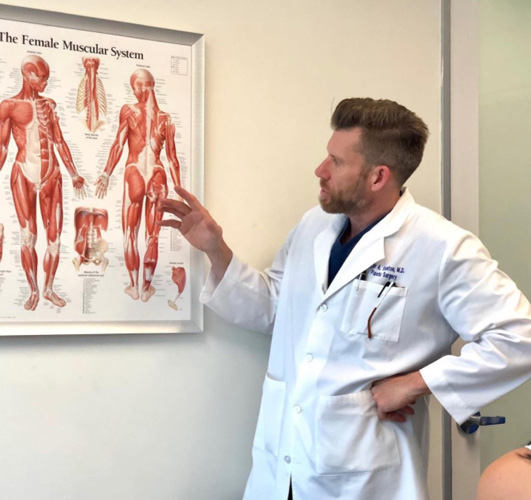 The medical industry is known for overbooking, crowded schedules, and short one-on-one time with physicians. That is not the experience you'll have with us.
Dr. Stanton believes in giving each patient individualized time and his best attention. As such, he never overbooks himself with surgeries, ensuring that he comes into the operating room at 100%, ready to produce stunning results for each patient. He does fewer surgeries each day than other plastic surgeons, limiting himself to 2-3 surgeries per day. You'll receive this same personalized attention and care at your plastic surgery consultation, pre-op appointments, and follow-up checks.
Dr. Stanton prides himself on his blunt honesty about surgical results and expectations. He'll clearly outline what can be achieved and will work with you to create your desired outcomes. He does not leave a consultation until every question is answered and patients are well aware of what to expect.
Dr. Stanton is frequently featured in national and international media including TV appearances on TLC's Plastic Wives, The Doctors Show, Discovery Channel, Montel Williams, Women's Entertainment Network, CBS, Fox, and KTLA News. He has also been featured in print publications including Fitness, In, Star and Gala Magazines. Dr. Stanton is a regular contributor to peer-reviewed medical journals including Plastic and Reconstructive Surgery, Aesthetic Surgery, and Clinics in Plastic Surgery.
Call our office today at (310) 278-0077 to ask your questions about how you can achieve your most fabulous figure. You can also ask questions or schedule your consultation with Dr. Ryan Stanton via our online form.
Q & A with Dr. Ryan Stanton