Pectoral Implants/Chest Reconstruction IN LOs ANGELES CALIFORNIA
If you're struggling to bulk up your chest, you are in good company. Many men find that this area is one of the most difficult to shape and tone. Pectoral implants, specialized implants that are placed under the pectoral muscle, can add definition and mass to your chest, creating masculine contours and enhancing your hard efforts at the gym.
If you're considering pectoral implants in Beverly Hills, contact Dr. Ryan Stanton, one of the area's top specialists in cosmetic body implants. Get answers to your questions about chest reconstruction or enhancement with pectoral implants by scheduling your consultation. At your one-on-one consultation with Dr. Stanton, you'll chat with Dr. Stanton and our team about pectoral implant surgery, recovery, and costs.
We invite you to meet with Dr. Stanton to see if this procedure is right for you. Call us at (310) 278-0077 or schedule a consultation today!
WHAT ARE PECTORAL IMPLANTS?
Dr. Stanton uses pectoral implants to shape and enhance the chest for men that want more muscle definition. They are also used in chest reconstruction, helping to restore chest appearance in men with genetic and developmental conditions like Poland's syndrome (missing a pectoral muscle), pectus excavatum ("funnel chest"), or pectus carinatum ("pigeon chest").  Custom shape and sized implants are available and will be recommended by Dr. Stanton when useful to the individual patient.
PECTORAL IMPLANT Surgery: WHAT TO EXPECT
Pectoral implants are placed under general anesthesia in an outpatient procedure at our ambulatory surgery center. Dr. Stanton will customize your surgery to address your specific anatomy and desires. He'll provide detailed information about your surgery and what to expect as you prepare for your procedure.
Dr. Stanton will make an incision in the axilla, or armpit. This incision is approximately two inches long and is placed within a natural crease of the underarm where hair grows.  This will help conceal the scar. Dr. Stanton then creates a pocket under the pectoral muscle for the implant. Chest reconstruction patients without a pectoral muscle will have the implant placed under the subcutaneous fascia layer.
Once the pocket is created, a semi-solid silicone rubber, not gel, implant is placed into it through the incision. Pectoral implants are much more stable than a breast implant and are made from medical-grade silicone that is considered permanent. Their density is very similar to that of actual muscle.
Dr. Stanton will close your incisions using layers of sutures. Most patients won't need compression, but if you are also receiving liposuction, he may wrap the chest in compression bandaging to help minimize swelling and bruising. You'll then move into recovery where our skilled nurses will monitor you as you awake from anesthesia and start the recovery process. After about an hour, you will be ready to return home with a responsible adult caregiver. We can help you arrange nursing care at home if you don't have help available for after surgery.
Are Pectoral Implants Safe?
Overall, Pectoral Implants are considered a relatively safe and effective surgery with a low complication rate when performed by a specialist.  Make sure to seek consultation from a reputable surgeon with at least ten years of experience and who can share his/her results and complication rates with you.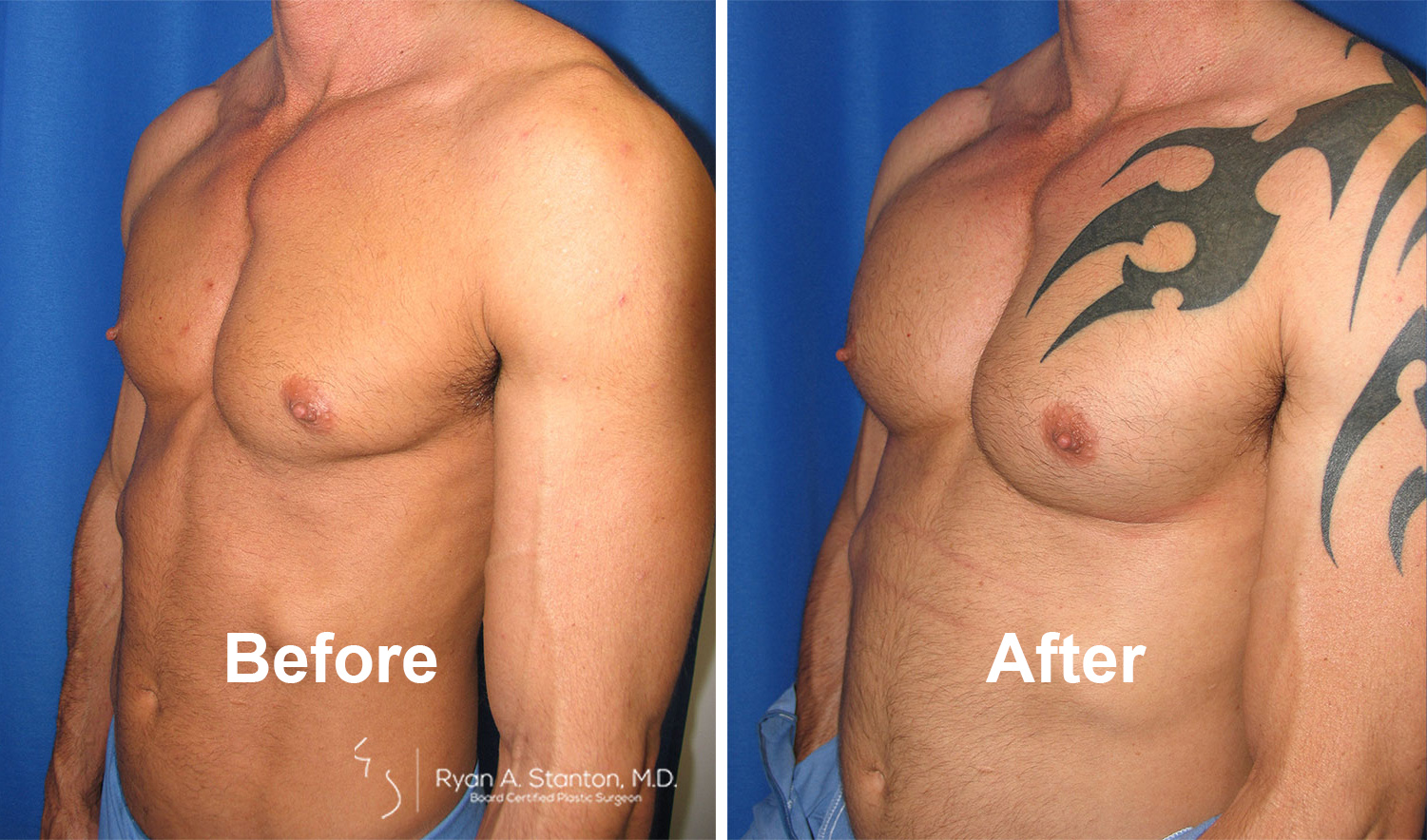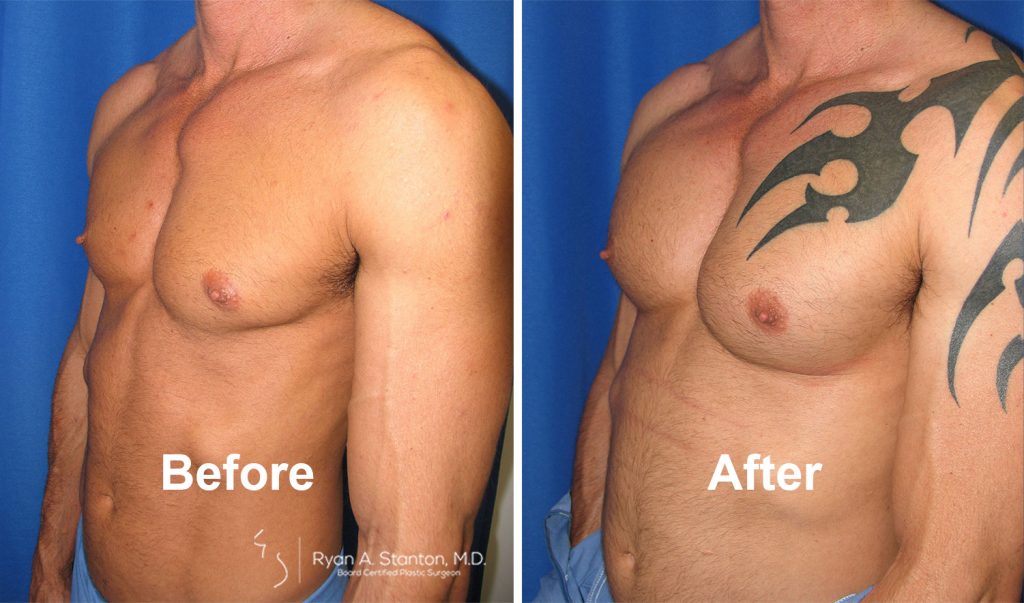 Recovery After Chest Reconstruction
The bulk of your recovery will happen at home. We encourage lots of rest for the first few days but with gentle walking started immediately.
Recovery generally progresses quickly, and our patients are often amazed that they are back to many daily activities in just a few days. Depending upon your job, plan on taking one to two weeks off from work and waiting approximately six weeks before returning to the gym and other strenuous activities with the upper body.
To manage any discomfort, Dr. Stanton may prescribe pain medications. Most patients do not need prescription pain relief for more than 3 – 5 days and can rest comfortably using over the counter medications like acetaminophen and ibuprofen thereafter. We'll provide instructions for taking any required medications after surgery and are available if you have questions. All patients will also receive a prescription for anti-inflammatory medications and antibiotics.
Your Pectoral Implants with Dr. Stanton
You're working hard on your appearance, but you're not in it alone. Dr. Ryan Stanton is one of the most popular plastic surgeons in Beverly Hills and specializes in using implants to enhance the body. In addition to pectoral implants, our male patients are also interested in bicep implants, tricep implants, butt implants, and calf augmentation with implants.
Contact Dr. Stanton to schedule a consultation or learn more about pectoral implants in Beverly Hills, CA, today!
Frequently Asked Questions: Pectoral Implants with Dr. Stanton