Butt Implants with The Butt King® in Los Angeles, CA
Look as good from the back as you do from the front. When planning cosmetic procedures, the face and the breasts are easy to remember, but fashion and photography trends have been giving the backside quite a bit of attention lately. If you desire to accentuate your assets from behind, butt augmentation with Dr. Ryan A. Stanton is the solution.
When considering butt implants, choose Dr. Stanton, a highly-skilled specialist who has performed over 800 buttock enhancement procedures. As one of the most sought-after plastic surgeons in Los Angeles, he has won the nickname "The Butt King®" from his patients.
This recognition didn't surprise us. After all, Dr. Stanton invented and patented the Stanton Anatomic® Buttock Implant, an naturally-shaped, soft semi-solid silicone rubber implant that significantly enhances the buttocks. To ensure the safest, most impressive results, Dr. Stanton invested years of research and experimentation before presenting his innovation to the USPTO and FDA where it quickly won full approval. 
Our patients come to us from not only across the nation,but  internationally as well, for the opportunity to enhance their buttocks with Dr. Stanton. While we work with many local women to create a full and rounded posterior, the majority of our buttocks augmentation patients travel to California for their surgeries.
While we provide an overview of butt implants here, feel free to call our office at (310) 278-0077 to ask your specific questions.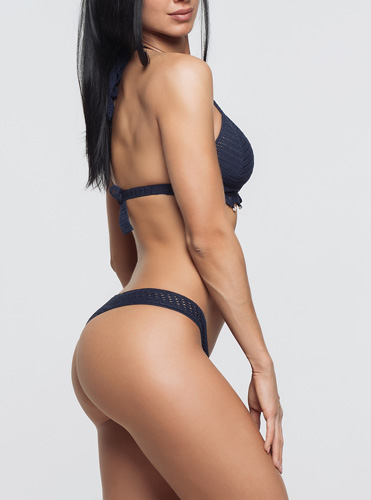 Butt Implant Placement - What to Expect
Buttock implants are placed in an outpatient surgical procedure. Our buttocks augmentation procedures typically require 1-1.5 hours in the operating room.
Dr. Stanton first makes an two small (~1.5 inch long) incisions in the midline, a.k.a. the "butt crack". This natural crease is ideal for hiding scars, rendering them imperceptible for many patients. Women with a short and shallow butt crack may have a slight bit of the  scar visiblejust above the top of the buttocks.
The implants are always best placed within the buttock muscles (aka "intramuscular"), not on top of the muscle and not "subfascial" both of which lead to problems with visibility, shape, sagging, and/or flipping of the implant.  Intramuscular placed implants are expertly positioned to provide a long lasting, natural-looking lift and shape to the backside.
Recovery After Butt Augmentation
As with any cosmetic procedure, the recovery process is the most difficult part of buttock augmentation surgery as well. Every patient experiences the recovery process somewhat differently, largely dependent upon pain tolerances. Essentially, every patient is a unique human being and therefore has their own unique experience.  That being said, here is the most typical recovery process: The first 2 weeks after surgery is the most challenging with swelling, tightness, and discomfort. Several different types of pain and anti-inflammatory medications are prescribed. Icing around the clock is also extremely helpful, even for the first 7 – 10 days.
When the butt implants are first placed, they need time to heal before they are disturbed. We ask patients to avoid climbing flights of stairs and sitting on their buttocks, other than using the restroom,  for at least two weeks. Many patients find relief in kneeling face forward into a chair to watch television, work, or have meals during this time period.  Patients that fly in from long distances away may fly back home after only 5 days by following a strict sitting/pressure release routine prescribed by Dr. Stanton. 
Although the majority of patients are most comfortable laying on their tummy for the first two weeks, it may be possible to place yourself into a fairly comfortable position on your backside with your knees and ankles elevated upon 2 to 3 pillows thus transferring some of your weight from the buttock up to the mid-back region. Sleeping on the side is also prohibited for 3 weeks.
Patients may return to work after 2 – 3 weeks as sitting and basic daily activities become easier.  For those whom work from home, return to work resumes much sooner if they can work standing, kneeling, and/or lying down reclined in the "dentist chair" position. 
After 2 weeks patients may sit for up to 20-30 minutes at a time then stand up or take a short walk for at least 30 seconds before sitting back down, after  3 weeks for up to an hour, and at after 4 weeks unlimited as tolerated. 
At 4 weeks patients can resume upper body exercises while standing only and begin gentle sexual activity.  
By 6 weeks, all restrictions are lifted as life nears normal again, all exercise (including squats and lunges) and sports may be resumed again but at very low intensity, gradually building week by week both range of motion and to full strength by about another 6 – 10 weeks later. Like breast implants, around 6+ months postop the implants have fully dropped into place and achieved full projection. Also at this time, the body has adapted to the implant and no longer recognizes it as foreign but rather as "self". 
Dr. Stanton and his staff are available to address questions and concerns throughout the butt augmentation recovery period. Reach out if you need us!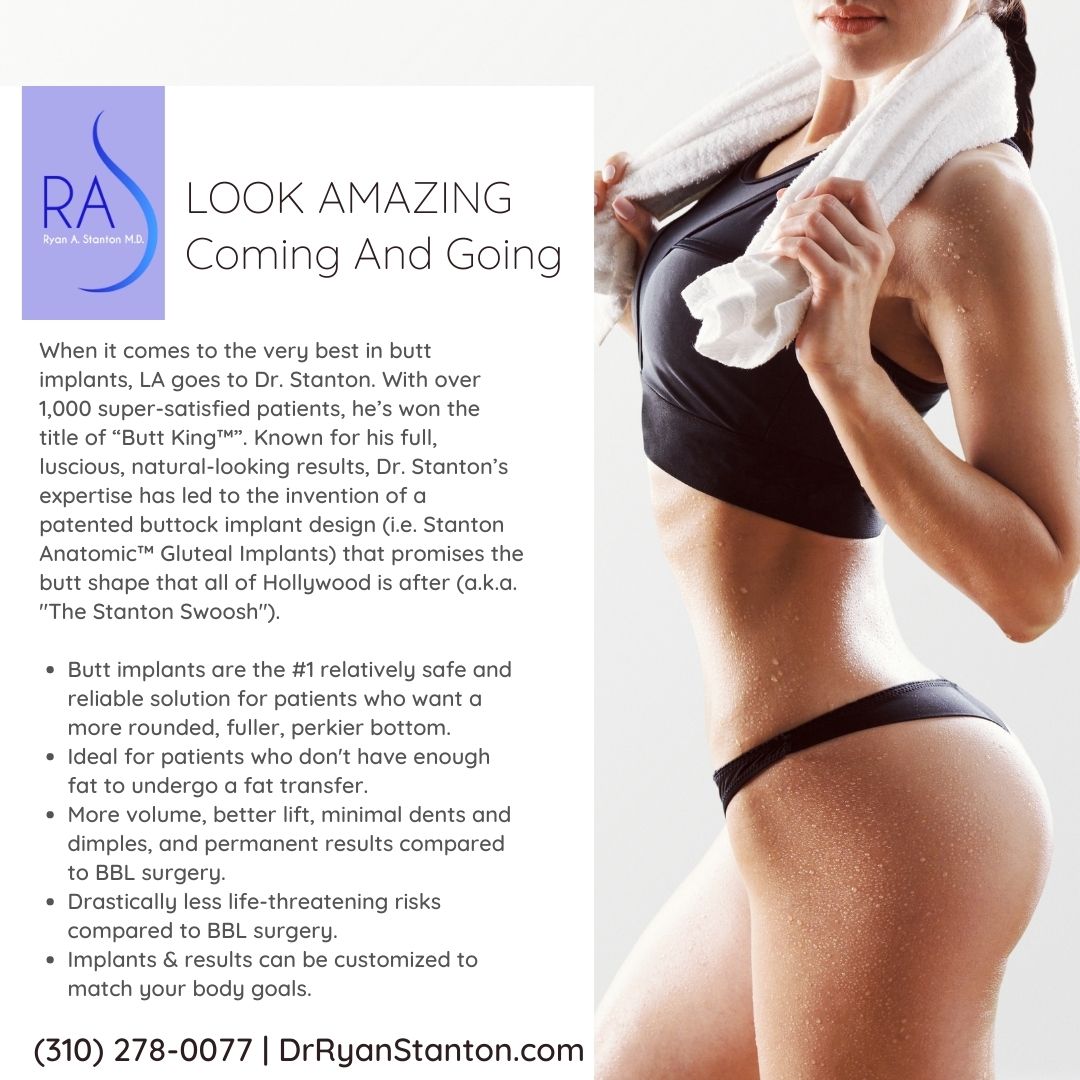 Butt Implants vs. BBL: Which is Better?
The BBL, or Brazilian butt lift, is one of the most requested and sought-after procedures for buttocks enhancement. In a BBL, fat is extracted from the abdomen or waist and transferred into the buttocks through a series of injections. Theoretically, this transferred fat will take hold and permanently implant into buttocks, providing lifelong shape and volume. However, real-world results often fall far short of patient expectations and doctor's hopes.
At first, BBL results are stunning, but in time, the body reabsorbs the transferred fat, leaving you with a flat backside. For many women, levels of fat loss are staggering, up to 80+% of the transferred fat is gone in the first year. This post-procedural fat loss is especially common for slender, thin patients with a high metabolic rate. Many of our butt implant patients tried BBL first. When they didn't receive the desired results from their first procedure, they found Dr. Stanton. In fact, Dr. Stanton meets with two to three failed BBL patients per week, some traveling from across the world to visit our Beverly Hills plastic surgery office.
Long story short, butt implants are more effective, more consistent, and permanent compared toBrazilian butt lift surgery. With implants, Dr. Stanton can control the exact size and shape of the additional volume to the buttocks. He chooses the size and the best anatomic shape of the implant and where it is positioned. Fat loss after a BBL is often inconsistent, making it difficult for a surgeon to determine how much fat to implant and where to place the fat injections. With butt implants, we'll know what your results will look like before the procedure and we consistently achieve these results for our patients.
Stanton Anatomic® Butt Implants
Dr. Stanton uses patented anatomic buttock implants for most of our buttock augmentation procedures. This implant, called the Stanton Anatomic® Buttock Implant, was created by our own Dr. Stanton after years of careful research and study. Most traditional butt implants are round or tear-drop oval shaped, but these anatomically shaped implants are symmetrically oval (ellipsoid). This unique shape eliminates the risk of rotation that is common with tear-drop oval implants. These implants also produce a more natural buttocks silhouette. Our implants are FDA-approved and manufactured here in California at an FDA-approved facility. They are made from soft, solid silicone rubber and cannot leak or rupture, thus are permanent,  never requiring replacement unless a change in size is requested.
When buttock implants are placed by a skilled and qualified plastic surgeon, safety is very high. Butt implants eliminate some of the biggest risks of BBL including fat embolism, high death rate (1 out of 3000 patients), asymmetry, and hardened painful fat necrotic cysts and scar tissue. Dr. Stanton has a very low complication rate of about 5% overall when performing this procedure, with only a 0.5% risk of infection.
Butt implants share many of the same risks and complications as breast implants, with a few notable benefits. Buttocks implants are much less likely than breast implants to experience capsular contracture, a hardening of the implant caused by scar tissue contraction. They are also permanent, whereas breast implants are typically replaced every 10 years.
Buttocks Implants in Los Angeles, CA - Why Choose Dr. Stanton
Many plastic surgeons in Los Angeles offer buttocks enhancement procedures, including the Brazilian butt lift, but most only offer this fat transfer method, not implants. Dr. Stanton is one of the few plastic surgeons in the area that regularly performs butt implants, at least 5 – 7 times per week. His experience (since 2001) and expertise using buttocks implants are unmatched in the area. He is a board-certified plastic surgeon and a worldwide expert on cosmetic implants, including butt and  hip implants, , as well as specializes in others such as breast, calf, and pectoral implants.
View our gallery to see why Dr. Stanton has earned the name "The Butt King®" and is one of the most sought after plastic surgeons in Los Angeles and beyond.
If you're considering buttocks augmentation, skip the hype of the BBL and choose the time-tested, consistently effective and safer option of a cosmetic buttock implant. Your face makes your first impression, and your buttocks handles your last. It is what people see as you walk away. Make your final impression one to remember. Call Dr. Stanton today at (310) 278-0077 to ask your specific questions or schedule your consultation. You can also use our online form to connect with us conveniently.
Frequently Asked Questions About Beverly Hills Butt Implants