Breast Augmentation in Los Angeles California
Dr. Ryan Stanton is famous throughout Los Angeles for creating hourglass curves on countless women. While his signature butt and hip augmentation procedures are our most popular surgical treatments, they constitute only half of the sought-after hourglass figure. In addition to a trim waist and full, rounded buttocks, shapely breasts play a big part in the sensuous figure, and many women seek breast augmentation to achieve it. 
Dr. Stanton takes pride in creating natural, proportional results. We like to say, "If you can tell a woman has breast implants, she didn't get them from Dr. Stanton." Our breast augmentation procedures create naturally contoured and thus natural-looking breast enhancement, results that women from across the nation come to California to achieve.
This guide helps you understand what's involved in breast implant surgery. To get your specific questions answered, do not hesitate to call our office at (310) 278-0077 or fill out our online form. We're happy to provide the insights you need.
How Breast Augmentation Enhances Breast Appearance
Breast augmentation is one of the most popular surgical cosmetic treatments in the United States. Every year more than 300,000 breast augmentation procedures are performed in the U.S. Breast augmentation increases breast size and enhances their shape by positioning an implant into the breast. This implant adds volume, and can increase upper pole fullness, rounding out the top of the breast.
Breast augmentation can enhance breast appearance in several ways. It is used to increase naturally small breasts to a fuller, larger cup size. Implants are also used to correct asymmetry. All women have some variation between the two breasts, but implants can even out noticeable asymmetry that either occurs naturally or appears after breast-feeding or weight loss.
This procedure offers a permanent, long-lasting result. As long as the implant remains in the breast, it will continue to increase your breast size. Modern breast implants are strong, durable, and long-lasting. Many of our patients enjoy their implants for a decades before replacement is needed.
We offer both saline and silicone breast implants to our breast augmentation patients. Dr. Stanton typically recommends a silicone implant because of their more natural look and feel. Saline implants offer some benefits too. The implants themselves are more affordable, typically costing about half as much as a silicone implant. This type of breast implant may be ideal for younger patients as they can help to expand the breast tissues. Saline implants also can be placed through the belly button for a scar-free procedure.
Saline has these benefits, but in most cases, Dr. Stanton finds that silicone is the far superior choice. It is the implant he would recommend for any female family member considering breast surgery.
Breast Augmentation vs. Breast Lift- Which Do I Need?
When women are unhappy with their breast size and shape, breast augmentation with implants come to mind first. Don't cling exclusively to the implant when other surgical options may bring the desired results. 
Women with sagging breasts, also called ptosis, may need a lift, with or without breast implants, to achieve their best breast shape.
How do you know if you need a breast lift? A consultation with Dr. Stanton, a board-certified plastic surgeon, is the best way to determine which cosmetic procedures you'll benefit from. While you wait for your appointment with Dr. Stanton, a quick comparison of your nipple in relation to the inframammary fold can give you a good estimation of whether you'll need a lift. If the nipple is lower than the lower breast crease, you'll likely need a breast lift. A lift restructures the breasts and creates better support and shape. A breast lift can be paired with breast augmentation to improve both breast size and shape.
If a lift is needed, but not performed, you won't achieve the desired results from your breast augmentation. Breast implants alone provide minimal tissue lifting, raising the breasts about a centimeter, a negligible amount. Since there is insufficient breast tissue support within the breast, the breasts may be unable to support the weight of the implant and they may drop dramatically a few months after the procedure. If you need a breast lift, we recommend receiving it at the same time as your breast augmentation.
Breast Augmentation After Pregnancy
Pregnancy impacts the breasts, abdomen, and vaginal areas most. Post-pregnancy plastic surgery, a transformation we like to call the "Mommy Makeover," commonly includes breast augmentation.
Many women will need a breast lift after pregnancy. The rapid expansion of the breasts and hormonal changes create a loss of firmness and loose stretched out skin. Many women experience a decrease in upper pole fullness, as their breast volume shifts to lower breast while the top portion becomes flatter, like a stretched-out balloon. Breast implants restore upper pole fullness, and when combined with a breast lift can recreate a rounded, perky breast after pregnancy.
Our mommy makeover may also include procedures like abdominoplasty (tummy tuck), labiaplasty, or liposuction.
View our gallery to see why Dr. Stanton has earned the name "The Butt King®" and is one of the most sought after plastic surgeons in Los Angeles and beyond.
Am I a Good Candidate for Breast Augmentation?
If you're unhappy with your breast appearance, you may benefit from breast augmentation or one of our other cosmetic breast surgeries. Dr. Stanton is one of the top "natural contour" breast surgeons in the Los Angeles area. We would love to talk with you about your options for cosmetic breast enhancement if:
A consultation with Dr. Stanton allows patients to learn about the breast augmentation procedure from a board-certified plastic surgeon with more than 18 years in private practice. Learn about the risks and benefits of breast surgery, explore your breast implant options, and receive personalized treatment options and advice. Schedule your consultation by contacting our office at (310) 278-0077 or fill out our online form today.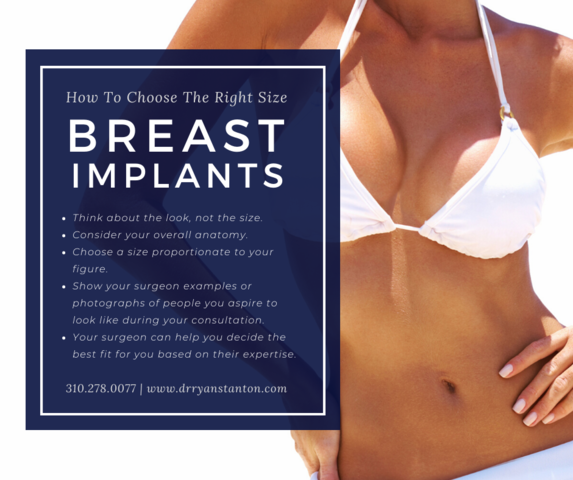 Breast Augmentation Results
Patient satisfaction rates are very high for breast augmentation, both at our Los Angeles plastic surgery practice and around the country. A 2013 study found that 98% of women achieved results that met or exceeded expectations after their breast augmentation.
The key to getting results you'll love is working with a highly skilled, board-certified plastic surgeon. Although Dr. Stanton is best known for his butt and hip augmentation results, he also performs many breast surgeries, delighting women with their new curves across Southern California and beyond. This procedure produces stunning results on its own or pairs beautifully with a buttocks and hip enhancement procedure to create those so highly desired feminine hourglass curves.
Learn more about your options for breast and body enhancement at a plastic surgery consultation with Dr. Stanton. Full, rounded breasts are a phone call away. Call 310-278-0077 and ask about breast augmentation surgery in Beverly Hills, CA. You can also schedule a consultation or ask a question via our online form.
FAQs for Breast Augmentation in Los Angeles, CA